On the evening of the first day of 2015…
I got books for Christmas this year. I hope that you got books, too. I actually didn't get any books that I had asked for, but that's probably because I didn't ask for any books specifically. I didn't ask for any titles in particular because I have a huge backlog of books to read. At NCTE I picked up many books and haven't read nearly as many as I would have liked by now.  However, my family did a great job of picking up some beautiful books for me.
*The following photos and summaries are from Goodreads*
1) Adam by Ariel Schrag
"When Adam Freedman — a skinny, awkward, inexperienced teenager from Piedmont, California — goes to stay with his older sister Casey in New York City, he is hopeful that his life is about to change. And it sure does.
It is the Summer of 2006. Gay marriage and transgender rights are in the air, and Casey has thrust herself into a wild lesbian subculture. Soon Adam is tagging along to underground clubs, where there are hot older women everywhere he turns. It takes some time for him to realize that many in this new crowd assume he is trans — a boy who was born a girl. Why else would this baby-faced guy always be around?
Then Adam meets Gillian, the girl of his dreams — but she couldn't possibly be interested in him. Unless passing as a trans guy might actually work in his favor…
Ariel Schrag's scathingly funny and poignant debut novel puts a fresh spin on questions of love, attraction, self-definition, and what it takes to be at home in your own skin."
My son Carl gave me this book and I can't wait to read it. I have not read her other writing, but the reviews and the subject are definitely of interest to me. LGBTQ YA books are not easy to find and really good ones are even harder to find. I have great hopes for this one. Also, I really love the cover art.
2) I'll Give You the Sun by Jandy Nelson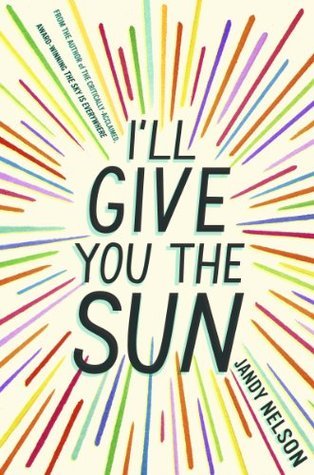 "Jude and her twin brother, Noah, are incredibly close. At thirteen, isolated Noah draws constantly and is falling in love with the charismatic boy next door, while daredevil Jude cliff-dives and wears red-red lipstick and does the talking for both of them. But three years later, Jude and Noah are barely speaking. Something has happened to wreck the twins in different and dramatic ways . . . until Jude meets a cocky, broken, beautiful boy, as well as someone else—an even more unpredictable new force in her life. The early years are Noah's story to tell. The later years are Jude's. What the twins don't realize is that they each have only half the story, and if they could just find their way back to one another, they'd have a chance to remake their world.
This radiant novel from the acclaimed, award-winning author of The Sky Is Everywhere will leave you breathless and teary and laughing—often all at once."
Again a brother and sister story and it sounds fantastic. Again an author who is new to me. It would appear that 2015 will be a great reading year for me.
Also, the cover art on these books is brilliant.  They are beautifully simple and compelling. I loathe photographs on the covers of books. I don't want anybody but the author telling me what the characters look like.  Don't give me a cover with a photograph of a frilly girl on the cover or a shirtless guy unless you want me to walk right by it. I know that authors don't have much input on their cover art and that makes me angrier still. Don't even get me started on the "movie editions" of books. Barf.
At the moment, I am reading 'All the Light We Cannot See" by Anthony Doerr and am listening to "Unbroken" by Laura Hillenbrand.  I am not madly in love with "All the Light.." yet.  However, it is about 2 young people one of whom is a teenage boy being trained an a Nazi school.  "Unbroken" is so compelling and Louis' childhood and young adulthood is an amazing story unto itself. Oddly, Edward Hermann, the lead vampire from "Lost Boys," FDR in "Annie" and actor in zillions of other movies reads the book. He died yesterday.  Of course I didn't know Mr. Hermann personally, but as a listener to many audiobooks I can tell you that listening to someone reading a book aloud to you is an intimate experience. I've spent hours in my car with him talking to me also in my room while I fold laundry and even in the bathtub! I have hours left to spend with him. The experience has made me think of the indestructibility of stories and story tellers. He will go on as will the story he's telling me as will his film work. The stories live on…
Goodreads wants me to set a number of books to read goal for 2015. I'm not going to do it. I don't use Goodreads that much and I find that forcing myself to read a certain number of books just makes me frustrated. I am reading more now than I ever have and that's good enough for me.
What are you planning to read in 2015?